Content Management System (CMS) 
is a computer application that supports the creation and modification of digital content using a simple interface to abstract away low-level details unless required, usually supporting multiple users working in a collaborative environment.
CMS features vary widely. Most CMSes include Web-based publishing, format management, history editing and version control, indexing, search, and retrieval. By their nature, content management systems support the separation of content and presentation.
A web content management system (WCM or WCMS) is a CMS designed to support the management of the content of Web pages. Most popular CMSes are also WCMSes. Web content includes text and embedded graphics, photos, video, audio, maps, and code (e.g., for applications) that displays content or interacts with the user.
Such a content management system (CMS) typically has two major components:
· A content management application (CMA) is the front-end user interface that allows a user, even with limited expertise, to add, modify and remove content from a Web site without the intervention of a Webmaster.
· A content delivery application (CDA) compiles that information and updates the Web site.
Digital asset management systems are another type of CMS. They manage things such as documents, movies, pictures, phone numbers and scientific data. CMSes can also be used for storing, controlling, revising, and publishing documentation.

Domain Name Registration
The process whereby a unique domain name is selected and registered by a user, giving the user the right to use that domain name for their Web site. We allow you to register a domain when you sign up for Web hosting. We have to check for domain name availability. Domain Registration for .com, .net and .org is P600/year. Domain name registration for .ph is P1,950/year.

Web Hosting
We offer several packages that will suit your needs for as low as 100 Philippine pesos a month. At Edsahosting, everything is possible.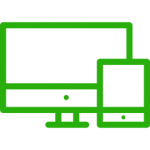 Web Design
A professionally designed web site is necessary to stand out in the world of e-commerce. A web site must be attractive yet have a very user-friendly interface. At Edsahosting, we design high-impact web sites for individuals, companies or organizations who want to harness the many benefits of the Internet. Our understanding of the web design, technological and online marketing processes imperative to help companies define their online strategy and deliver solutions that help them to get their business to a global market as provided for by the World Wide Web.

Brand Design
The marketing practice of creating a name, symbol or design that identifies and differentiates a product from other products . An effective brand strategy gives you a major edge in increasingly competitive market. Every designer has his or her own unique process, and it is rarely linear, but in general this is how the branding process is completed, which can be used as a guide to establish your own. Design brief. Do a questionnaire or interview with the client to get the design brief. Research focused on the industry itself, its history, and its competitors. Conduct reference research into logo designs that have been successful and current styles and trends that is related to the design brief. Conceptualize and develop the logo design concepts around the brief and research. Reflections take breaks throughout the design process. This allows your ideas to mature and lets you get renewed enthusiasm. Receive feedback from clients. Presentation. Choose to present logos to the client for their approval.

Search engine optimization
Edsahosting provides the necessary skills for your search engine optimization the process of affecting the visibility of a website or a web page in a web search engine unpaid results—often referred to as "natural", "organic" or "earned" results. In general, the earlier (or higher ranked on the search results page), and more frequently a site appears in the search results list, the more visitors it will receive from the search engine's users, and these visitors can be converted into customers.

Custom Application
Custom software development is the designing of software applications for a specific user or group of users within an organization. Such software is designed to address their needs precisely as opposed to the more traditional and widespread off-the-shelf software.

Mobile Application
most commonly referred to as an app, is a type of application software designed to run on a mobile device, such as a smartphone or tablet computer. Mobile applications frequently serve to provide users with similar services to those accessed on PCs.